University of Idaho Approach
"We ask our students to rise with us, challenge the status quo, and transform patient care."
We don't just impart knowledge.
We inspire greatness.
Having worked for decades as Athletic Trainers, we understand all too well the learning curve new practitioners face. It takes years of clinical practice and additional training before most learn how to really impact patient care.
We give you that critical knowledge sooner. We designed our MSAT and DAT programs to accelerate the learning curve. We've asked ourselves, "What should ATs know on Day 1 (rather than day 7,000)?" and "What do students need to reach their full potential as practitioners?" That wish list inspires the design of our curriculum and program. 
Our students also pass the Board of Certification (BOC) exam—on the first try—at a higher rate than the national average.
We unlock your greatness.
We're here to cultivate passionate, kind, grounded healthcare professionals. Nurturing your personal growth is a key aspect of our programs. We don't just deliver a top-notch education—we support your full-scale transformation. We've crafted an approach and built a culture that embraces the whole person. We help students become the confident, capable professionals they want to be. The real value of our program is our personal investment and professional commitment to your growth—both as an individual and as a practitioner.
Our MSAT and DAT programs are flexible and accessible to students in every state, in every season of life. No matter where you live or what your life demands, you can still pursue excellence.
We've also made it easier for you to dive into life-changing, career-launching clinical experiences. We partner with hundreds of respected clinics, medical centers, and research facilities across the country so you tap into top-notch clinical immersions closer to home. There is no limit to where you can go and who you can work with.
We deliver more for less.
U of I's Athletic Training department is self-funded, which means nearly all of our tuition dollars are invested directly back into our programs. As a result, our programs deliver far more while costing far less. Our students enjoy lower tuition costs and more extensive clinical experience—plus extra educational opportunities at no extra cost. Thanks to our accelerated learning model, your MSAT and DAT degree also has greater value. Our graduates find their degrees take them farther in their fields.
Our programs are heavily focused on clinical immersion and research, thanks to our ISMaRT clinic—a specially-designed space dedicated to teaching, learning and research. Our clinic serves thousands of patients each year and gives our MSAT and DAT students unparalleled clinical experience. The clinic keeps our faculty's skills sharp and gives students the rare opportunity to see faculty "walk the walk." Students work alongside our faculty members, testing and refining new approaches to patient care.
We were the first in the nation to create the DAT (Doctorate of Athletic Training) and a leader in offering the MSAT as a model residency program. In 2014, we designed and constructed a state-of-the-art clinic to serve as a cornerstone of both programs.
Thanks to our bold vision and independent stance, our academic programs lead the pack. Our students come away with a more diverse and meaningful skillset, an impressive array of certifications, and more immersive clinical experience of any program. Most importantly, our students are better prepared to make an immediate impact in their desired setting.
Our ground-breaking approach to AT education has made us an industry leader. We are true experts in patient care. We've set the bar for athletic trainers everywhere, and we're proud of our role in improving patient care around the world.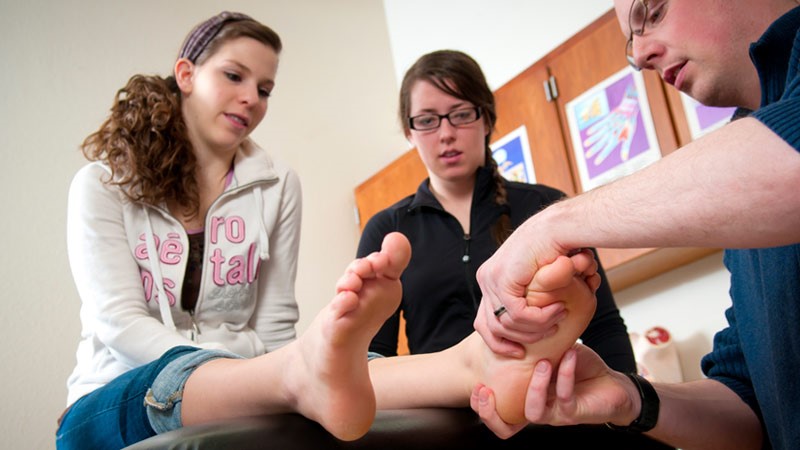 Work alongside us, collaborate with us.
Our faculty have worked in many AT settings, including professional, collegiate and high school as well as clinical settings. We set the standard for AT programs everywhere, and our research continues to advance patient care.
CLINICAL WORK IS AT THE CORE OF OUR MSAT and DAT, thanks to our State-of-the-art clinic and biomechanics lab.

"When you want to be part of the elite, it's best to learn from the elite. The quality of education and experience that the professors possess and patiently teach is unparalleled! "
—Trezlyn Bartschi, MSAT class of 2021